Post by kizmarlo on Dec 16, 2018 13:05:24 GMT
FC Twente - Rebuilding with Youth
2018/2019 Season Preview
I'll admit, I'm not as 'up' on European football as I once was - but whilst searching for a team to take into my first long-term save of FM19, I discovered that Steve McLaren'shh former haunt Twente had found themselves in the second tier of Dutch football. By all accounts, it's down to financial mismanagement and instability, which makes the perfect storm for the sort of side I like to manage.
FC Twente have flirted with significant problems since 2014/15, with point deductions being given for their lack of financial control. The second of these deductions led to the firing of 18 staff, including the entire scouting team, according to trusty ol' wikipedia. After fighting and appealing the decision to forcefully relegate the side as punishment, it all become redundant as relegation occurred through natural causes last season.
Despite all of this, the club has held onto it's 30,205 capacity, all-seater stadium, De Grolsch Veste, and most definitely have the potential to bounce straight back up. However, the club have appointed a new stingy Welsh manager (me), who is determined to do things 'the right way' (whatever that means), so we shall wait with baited breath on how it will pan-out. Upon arriving at the club, the new manager announced that the club will be heading in a new direction - only signing players 21 and under - in order to fabricate a new model club that will hopefully act on a similar level to Benfica; encouraging financial stability and developing young talent to aide that cause.
The Squad:

Needless to say, the squad is very good for this level, and I'd be very, very disappointed to not get back into the Eerdivisie at the first time of asking.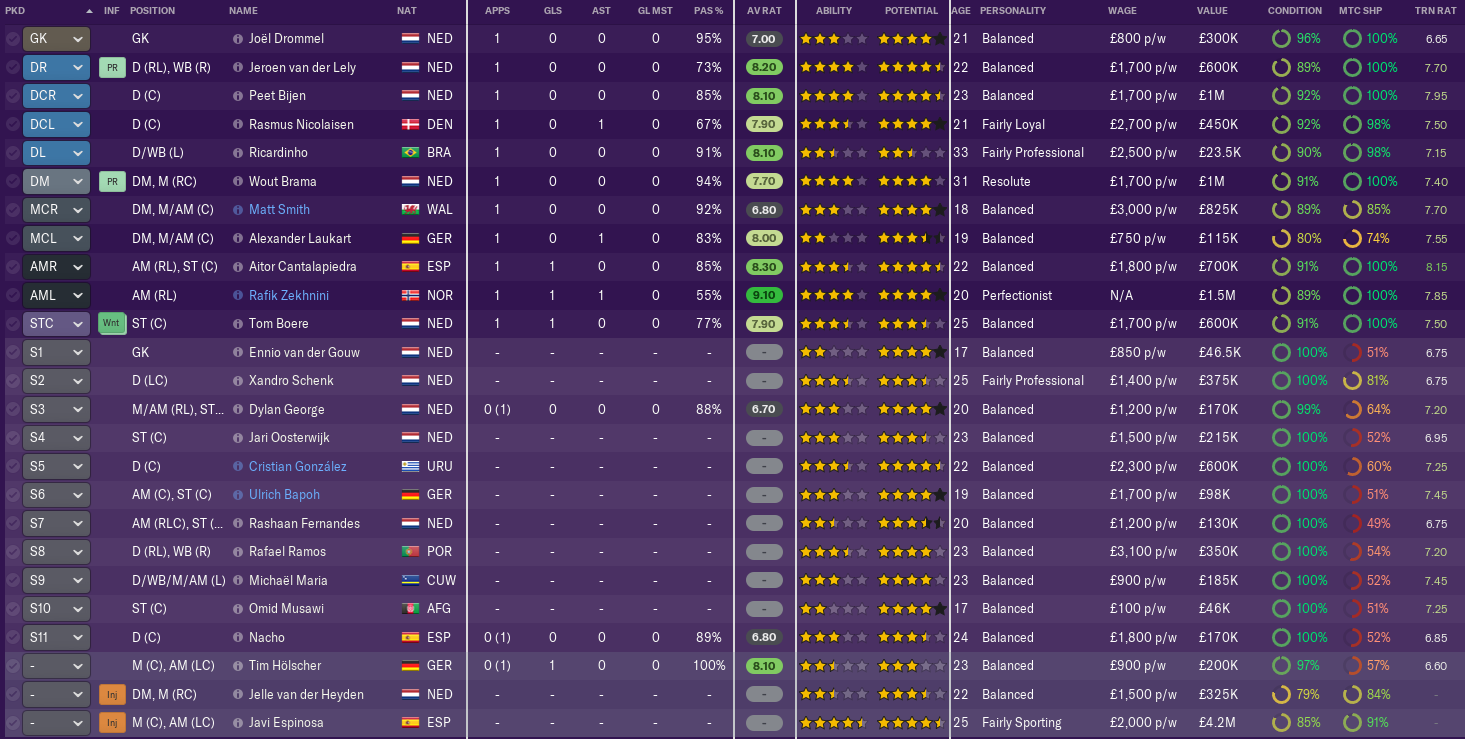 Not included here are the big names of Haris Vuckic and Oussama Assaidi, who have been dropped into the reserves as they are both out with very long term injuries. It's a shame I can't get them off the wage bill, but we'll just have to wait and see what sort of level they can play at when they both recover (around March-April, hopefully).
Other than this, however, we have some very good players at our disposal still. My particular highlights are
Joel Drommel
,
Dylan George
,
Aitor Cantalapiedra
and, of course,
Ennio (Raymond's son) van der Gouw.


I immediately identified a gap in our team, and I wanted to bring-in a new centre-back. Due to a lack of funds (understandable), I had to sell before I bought; and the discovery of van der Gouw meant that my back-up keeper was surplus to requirements, so Jorn Brondeel found his way out of the door for £300k to Beerschot-Wilrijk in Belgium.
With that money, I scoured as much as my fledgling scouting team would let me, and found a new first-choice centre-back from FC Midtjylland in a structured deal worth £550k.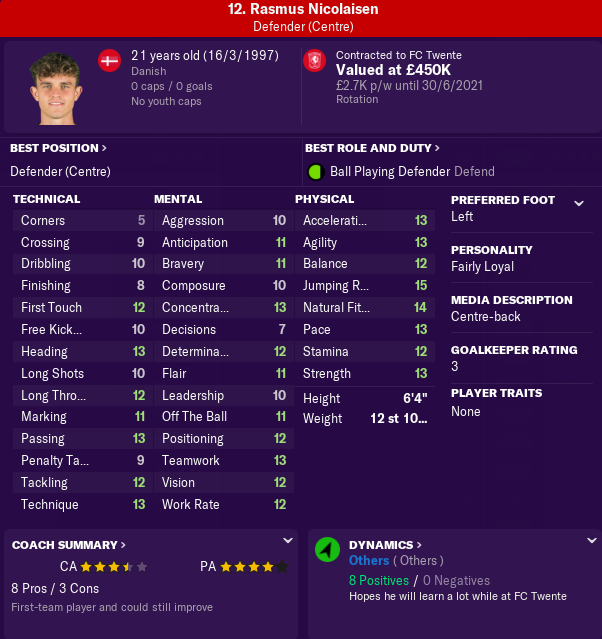 Pre-Season & Tactics:

Essentially, my tactical knowledge on this game is poor at best after some short-lived experiment saves so far. However, I am determined to get this right. I'm trying to create a split system with high pressure and urgency up-front, but defensive stability in-behind. The sort of thing that can win games in the second tier, yet provide a strong base for the fight post-promotion. As such, we'll be playing a fairly simple 433 with an Anchor at DM, with some forced creativity on the wings in the form of an Advanced Playmaker (Cantalapiedra/George, rotating) at right wing. It's not something I've tried before, but I like the idea of having a non-gung-ho-type Inside Forward, drifting inside onto their left foot and creating key passes for our lone striker. On the left, we'll be backed-up by a traditional winger, and one surging runner from central midfield.

Needless to say, it's been an alright start - but I'm definitely not counting my chickens just yet.