Post by hokster on Jun 22, 2020 12:36:13 GMT
Le Havre AC Introduction and 2019/2020 Preview
Le Havre Athletic Club is the oldest football club in France, having been formed in 1872 by, apparently, some ex-Oxbridge students (hence the color scheme). In fact, the club anthem is set to the tune of "God Save The King," which I'm sure goes over well in most of France. They were the first club outside of Paris to win the championship (back in 1899), but has never won Ligue 1, and has been outside the top tier since 2009. They've also won a single Coupe de France in 1959. (And here's
the reference
for the thread's title: if you haen't seen
Party Down
, you should).
While their on-the-pitch results have been limited, Le Havre has a famous academy. Benjamin Mendy, Paul Pogba, Riyad Mahrez, Jean-Alain Boumsong, Lassana Diarra, and Dmitri Payet are a few of the players who trained at Le Havre when they were youths. This legacy of youth development is essential for this save. I'm not going to make this an official YDWAWK save, but I want the spirit of that: we buy or loan only to supplement the academy, and when we buy, they should be young and able to be trained and molded by our staff. As a result, I'm also going to be flexible in my tactical approach, so that I can accomodate the best talents that we produce. For me, this is one of the most fun parts of a save like this, as I enjoy seeing youth develop and experimenting with tactics. This should also help us remain financially stable until we arrive in Ligue 1.
Expectations and Finances
The only board expectation related to the club culture is that we develop players using the youth system: done and done. While I generally like the idea of a club having a particular style of play, being able to be flexible will help me adapt to the players that we produce. Otherwise, we're expected to build towards a promotion to Ligue 1 by 2022/23, finishing in the top half in 2019/20, and reaching the playoffs by 2020/2021. As we're predicted to finish 5th, we should be in or near the playoff spaces this season, so this seems very reasonable. Beyond that, the board wants us to be run in a sustainable fashion and develop the best youth system, first in Ligue 2 and then in the country.
Facilities
Le Havre play in Stade Oceane, a 25,278 capacity all-seater. Unfortunately, we have to pay 861k per year in rent despite owning the stadium. But we do have 2.5M in sponsorships, which isn't too bad for this level (6th), and isn't much below the lowest sponsorships in Ligue 1. Given that our main kit and stadium deals will increase by 10% upon promotion, that set us up decently to stay up once we get promoted.
The training and youth facilities are "great," but I would've thought they'd be better for a team with this kind of history of youth development. More concerning for our first few intakes is the junior coaching and youth recruitment, both of which are just adequate. Those will have to be increased ASAP to consistently get in players who can remain with the club as we rise the ranks. We also have below average data analysis facilities, though I'm still not sure what improving those get you.
Squad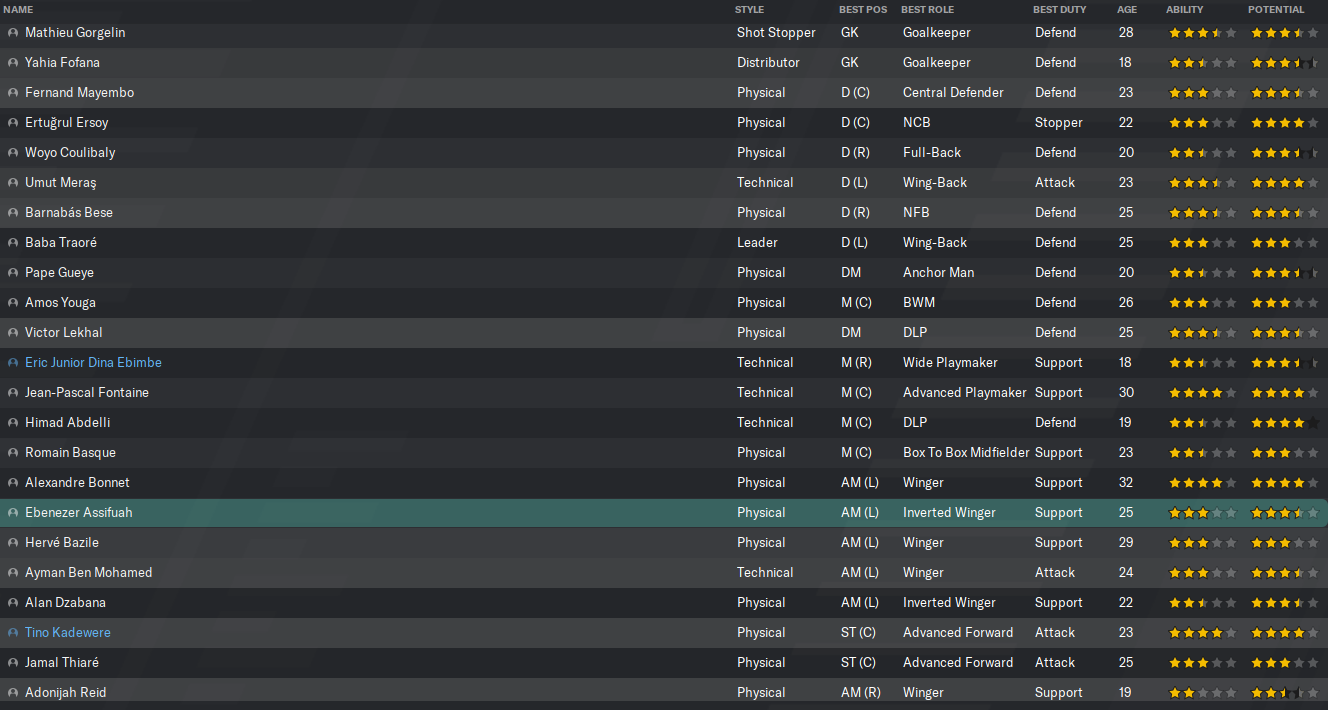 Overall, not too shabby. We're desperately overloaded in midfield compared to defense, so hopefully we can stay healthy at the back. I promoted
Baba Traore
from the 2nd team to provide cover at CB and LB. Here's a brief look at the key players:
Timo Kadewere
: Kadewere is on loan from Lyon, and he should be able to dominate at this level. He has extremely solid technical and mental skills, and is very impressive physically. He'll be a key man, and if we get promoted this season, it'll largely be off his play. He doesn't have a future fee, unfortunately.
Alexandre Bonnet
: Bonnet has been at Le Havre since 2009-10, and is getting up there in years. His natural fitness is high, though, so he may have a few more years in him to contribute. He should be decent on the left wing, providing us with through-balls and crosses.
Jean-Pascal Fontaine
: The longtime Le Havre player will be the creative heartbeat of the team, as well as a player who can hopefully provide some moments of magic with a shot from outside the area.
Victor Lekhal
: Unfortunately out for 4-6 months with damaged cruciate ligaments, when he returns he should be able to step into the first team and contribute as a supporting midfielder/playmaker.
Cengiz Umut Meras
: The recent Turkish international should provide us with good quality down the left flank, teaming up with Bonnet to pin back the opposition and provide good service to our attacking players.
Mathieu Gorgelin
: Gorgelin looks quite decent for this level, with good anticipation, positioning, handling, and reflexes.
Tactical Approach
We have decent pace at the back, and Gorgelin looks quite with it, which makes me think I can get away with a high line and press. As a result, I'm going to try to use a possession-based system, though we'll see how incisive we are. Here's the system and first XI that I'm thinking of currently:
I might replace this 4-3-3 with a 4-2-3-1 if we look stagnant, but we'll see how it goes. I'm not going to specify a tempo (particularly as we have several key players who can dictate it), but I'm going to start with a balanced mentality, short passing, and narrower width, to help keep the team connected and not too risky or risk-averse. I've used the combination of a W and a WB on the same flank before, and while it isn't a traditional overlapping pairing (like an IF and a WB), I've seen really good interplay between the wider WB and the W, who sits a little narrower and drives towards the area a bit more. Meanwhile, our RB will be more defensive-minded to help cover for the attacking CM and IF. I'm hoping we get some overloads on the left flank and in the right-sided channel. I'm not sold on those roles for the wide attacking midfielders, but we'll see how the play looks during preseason.
The front 5 are told to roam from positions to help them find pockets for space and be available for a pass. That might be a little too advanced for this level, but I was impressed by the anticipation and off the ball of many of my first-choice attackers and midfielders.
As I mentioned earlier, we'll use a high line and press high up the pitch. I've become fond of a two-block pressing system, where the front 4 or 5 (depending on the tactic) are more aggressive counter-pressers, and the more defensively-minded players keep their positions for the sake of stability. Again, we'll see how it goes; I'm not wedded to anything in particular.
Prospects
We have some promising prospects in our reserve and youth sides. I'll introduce some of these players as they become notable.