Post by jawzy on Jun 29, 2020 19:44:31 GMT
"Football Club Torpedo Moscow (Russian: ФК "Торпедо" Москва, FK Torpedo Moskva), known as Torpedo Moscow, is a Russian professional football club based in Moscow that was founded in 1930 and currently plays in the Russian Football National League, the second tier of Russian football. Their colors are white and black, with green also commonly being associated with the club. Torpedo is the only professional club located in south Moscow, based in Avtozovodskaya in south-east Moscow, with CSKA and Spartak located in north-west Moscow, Dynamo in north Moscow and Lokomotiv in north-east Moscow.
Torpedo are historically one of the big Moscow clubs who enjoyed great success during the Soviet era, both domestically and in Europe. In recent history, however, the club has suffered from financial troubles and poor management which has seen them drop down the divisions. A top flight club since 1938, Torpedo were relegated for the first time in their history following the 2006 Russian Premier League season and have only played one campaign in the top division since, in 2014-15, spending the other seasons bouncing around between the second and third tiers"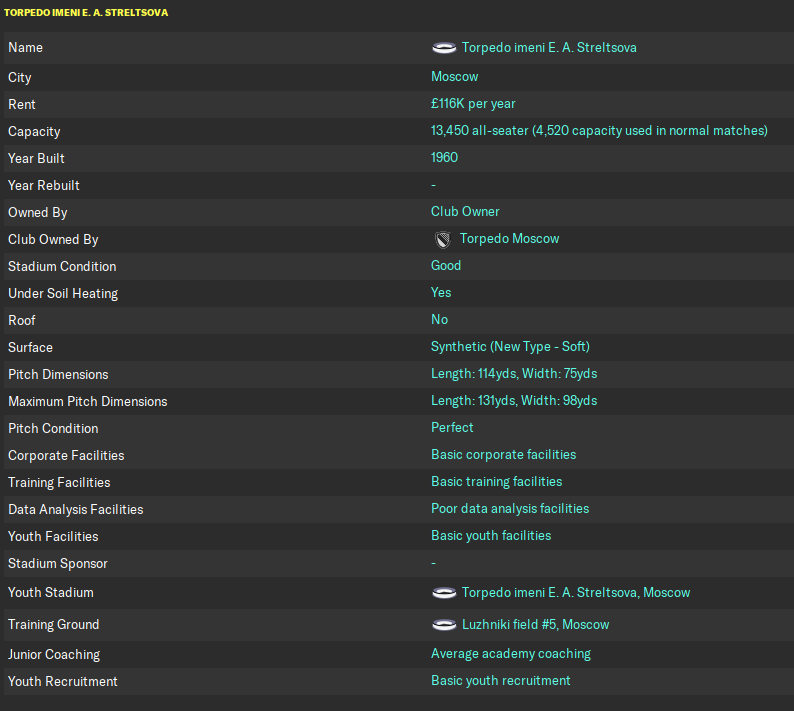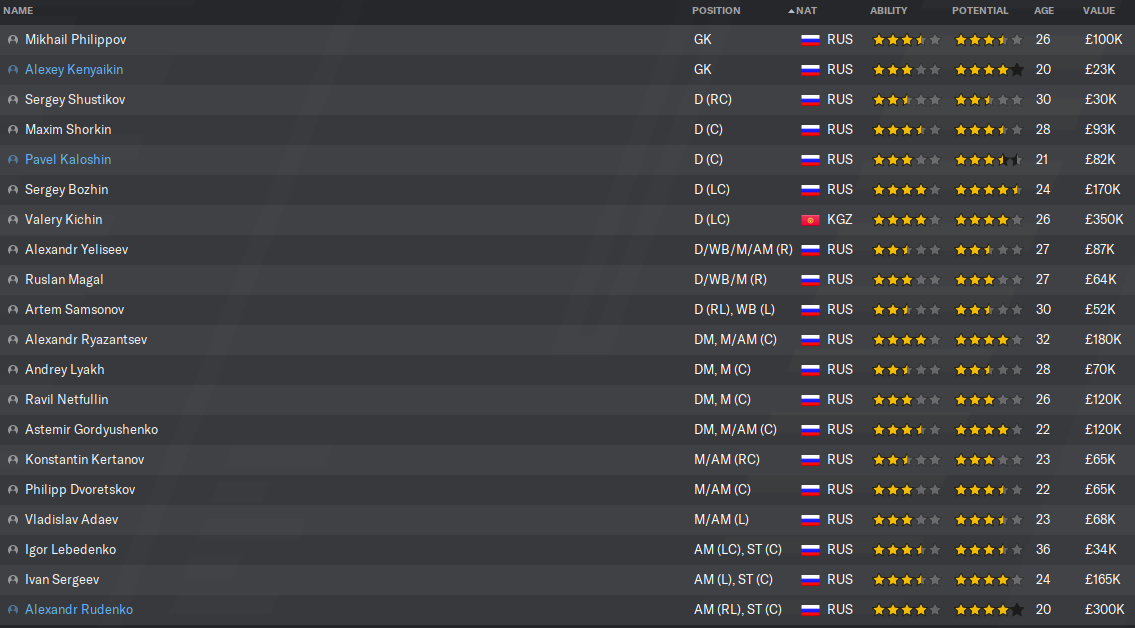 Hopefullly this sticks/I dont get sacked after 2 or 3 seasons! - Hopefully I can get this Moscow club into the top flight and into European competitions again.
The facilities seem super basic, which suprises me somewhat as does the reduced stadium size!.
We are predicted to finish 9th in the second tier - Board want top half this season and to win promotion next season!
top 2 go up with 3rd and 4th end a playoff with 13th and 14th in the top flight, bottom 5 go down.
We play 38 league games in the second tier. We are allowed to register 5 foriegners, but only allowed 3 in the first 11 Also we need to have atleast 1 u22 Russian in the first 11. (in top flight we can only play 6 foriegners in the first 11 (no registration limits)

Financially considering we not been in the top flight for a while is very good with a 4.7m balance and 271k to spend we have 10k left for wages.