Post by dalenichol on Jul 19, 2020 15:06:53 GMT
RTS Widzew Łódź - Save Preview



So after a few little stop start ideas and 7 years in Asia, I've decided to come back to Europe for a new challenge. And so that brings me to here, Widzew Lodz, in the Polish II Liga (3rd tier)
Widzew Lodz are one of Poland's larger historical sides, having been originally formed in 1910. The club fell on hard times in 2014/15 when, despite being owned by one of the richest men in Poland, they found themselves bankrupt. The club were bought out by a group of local businessmen, reverted back to amateur status and started in the 5th tier of Polish football, down in the regional tiers. Two quick promotions and a 5th place finish in their first season in the third tier and here we are, on our march back to the top flight of Polish football.
The club play their home games at the brand new, 18,000 capacity Stadion Widzewa and have good training and youth facilities, alongside average academy coaching and youth recruitment.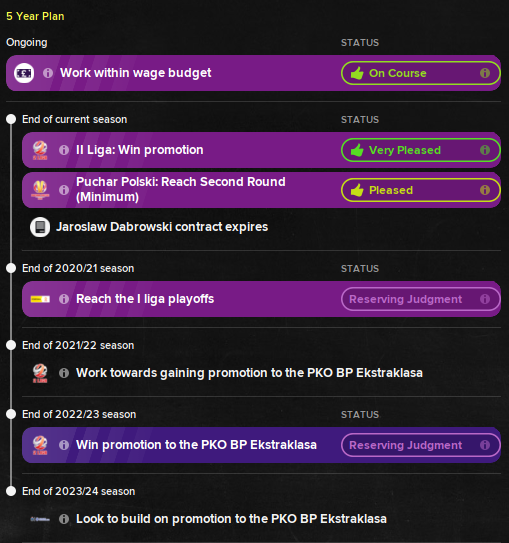 So the board expectations are fairly high, all things considered. Realistically, they expect us to be in the Ekstraklasa within 4 seasons which is probably about right. We have a decent squad and good facilities, and we are so far fairly comfortably winning this league, but the 2nd tier will be a decent step up but they expect us to at least make the playoffs in our first season. No pressure.
We're heading in to mid October with £1.4m in the bank, 16,000 season ticket holders and about £1.1m in sponsorship money per year, so whilst we're losing money we do have the infrastructure at the club in place that means I don't have to worry too much. We'll need to keep the wage budget in check, but I should be able to pick up some released Ekstraklasa youngsters and any good performers from lesser teams given our reputation, and hopefully supplement these with players from our own youth system.
I haven't thought too much about any significant milestone style goals for the save, but there are a few things I can think of...
Get Promoted to the Ekstraklasa
Qualify for Europe
Win the Ekstraklasa

Have a player called up to the senior Poland squad
Focus on Eastern European signings
Win the EL/CL with a team of Eastern Europeans?

I don't know, it's something to aim for. There'll be other things that pop up, I'm sure, but we need to focus on the promotions first and foremost.