Post by dalenichol on Sept 27, 2020 18:17:54 GMT
1.FC Kaiserslautern
Takeover and 1st Season Review.
Well, I said in the end of my Polish save that I was going to start in either USA, Japan or Brazil but I've somehow ended up in the familiar realm of Germany, one of my favourite places in the world, both in general and in footballing terms. I did start a save in the MLS with DC United but it just didn't work out, which is a shame, but it's somewhere that I'll definitely be playing on FM21, so there's that. I've played through my entire first season here just to make sure it was going to stick and so far so good!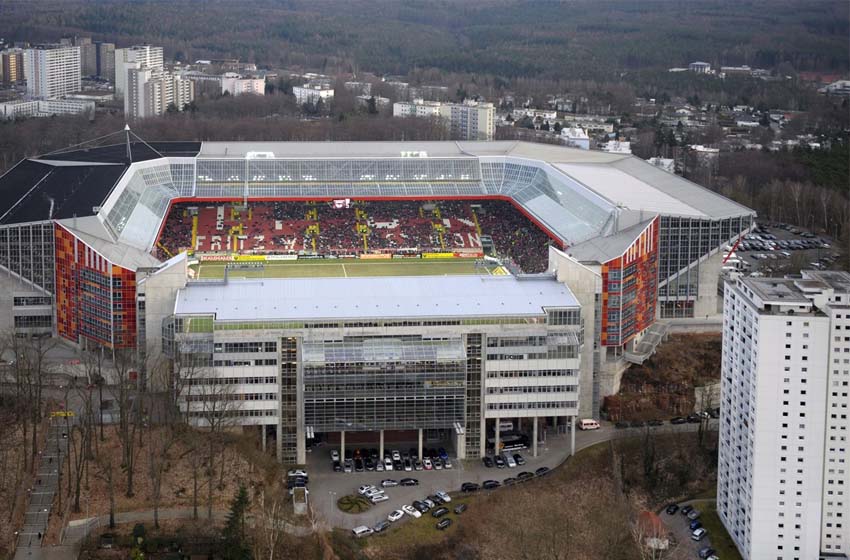 Based in the south western city of Kaiserslautern, the club play their home games at the almost 50,000 capacity Fritz-Walter Stadion. The club have an incredibly rich 120 year history. They are the 10th most successful club in Bundesliga history with 4 titles, they've reached the Champions League Quarter Finals in 1999 and two UEFA Cup semi final appearances and in the 1998/99 season completely a unique feat, becoming the only team in German history to win the Bundesliga in their first season after a promotion. The stadium is named after the one club legend Fritz Walter, who scored 357 goals in 364 games for the club and won the World Cup with Germany. Other notable former players include Mario Basler, Andreas Brehme, Miroslav Klose and Michael Ballack. A recent downturn in fortunes for the club has seen them fall into the third tier of German football and it is my job to rectify that.
As far as the save is concerned, there's no real objective/goals/restrictions other than the usual for an FM save. Get up the leagues, win the Bundesliga, beat the fuck out of Bayern a few times. Other than that, it's all fair game. This will, hopefully, be my save to see out FM20. We all know it wont be, because it's me, but hey, god loves a trier, right?
3.Bundesliga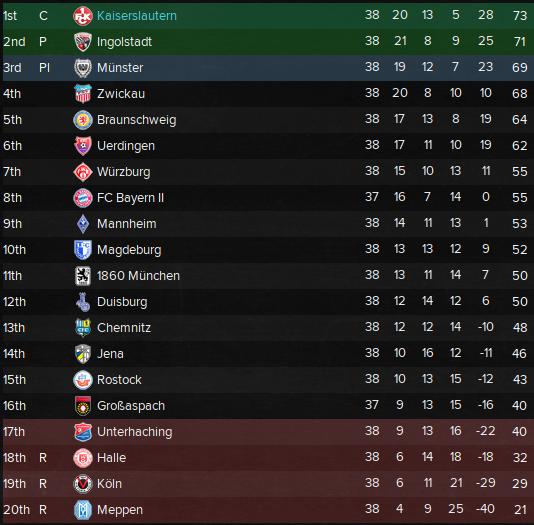 Mission accomplished and we're off to a good start. I knew we'd be there or thereabouts by the end of the season but I didn't really know what to expect. A media prediction of 3rd meant we were considered a strong team, but I know reputation dictates a lot of that in FM. An irl finish of 10th made me pause for thought a little. There were times when we were sloppy and let a couple of wins pass us by, but by and large we were consistent.
Team Stats
Theodor Bergmann
was the absolute star of the season, 17 assists and a 7.52 avg rating. Whilst
Andri Runar Bjarnason
popping up with 24 goals in all competitions, along with
Lucas Roser's
17 reminded me of what it was like to be in a team where your strikers actually consistently score goals. It was consistency from the entire team as a whole, but I could probably do with a bit more squad depth (and I really need to learn to rotate more!)
Domestic Cups:
We went out of the DFB Pokal at the first round, losing to Bundesliga side Union Berlin, and there's no shame in going out to a team 3 tiers higher. A bit of a nicer draw next season wouldn't go amiss.
But we did manage to win the most prestigious cup in Germany, the Sudwestpokal! Where we beat a bunch of powerhouses such as FV Dudenhofen and TSG Pfeddersheim! (Okay, so we're the only professional team in the competition, but so what!?)
Youth Intake: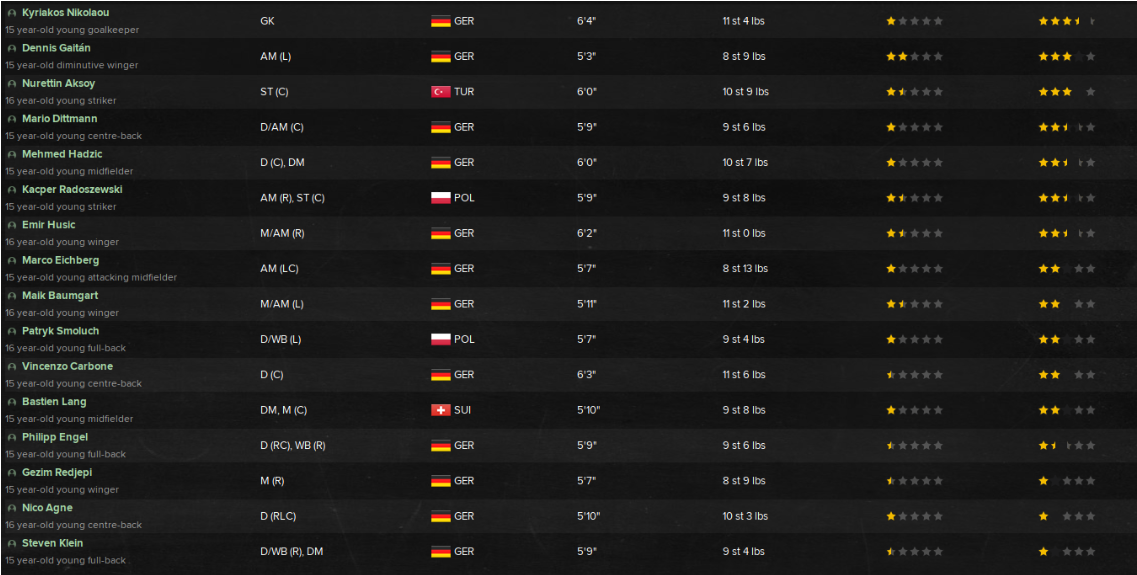 Nikolaou
is a fairly decent prospect from our first intake and a few of them look okay. It's nice to have a good intake in the first season after about 12/14 of my Lodz intakes being absolutely awful. Being Germany and a club with good facilities, we should get more good than bad, which is a great.
A couple of the prospects that were already at the club/day one newgens include:
Lars Altegoer
,
Phinees Bonianga
,
Michal Kuczera
and
Dennis Gaitan
. Not sure they'll all make it, but they look decent to start with. I definitely need to focus more on developing my youth players, as opposed to just signing young players my scouts recommend, although I'll obviously try and do both.
AOB:

Not the best financial position to be in when you're spending 100k p/w on wages and 115k p/m on a bank loan. We started on around £5.5m in the bank, so at least we stay in the black. We will make around £4.5m from sponsorship payments and club membership income and I'd assume we'll make some increase on the £2.1m season tickets we took in last season. So I'm not too worried. We'll likely have to make do with loans and free transfers for our first season in the 2.Bundesliga and prize money means that simply surviving relegation would net us £7.8m...so there's that!
I think that's all for me just now. As always, if there's anything you'd like to know, hit me up!