Post by Ben on Dec 27, 2018 22:00:35 GMT
May 2030 (End of Season Review)


A poor end to the season - following the draw against Benfica, we had little chance of toppling Boavista and, as such, fielded a far more rotated squad than normal. The two defeats haven't hugely cost us but it would have been nice to top off this season with a good finish. The final table is as seen below: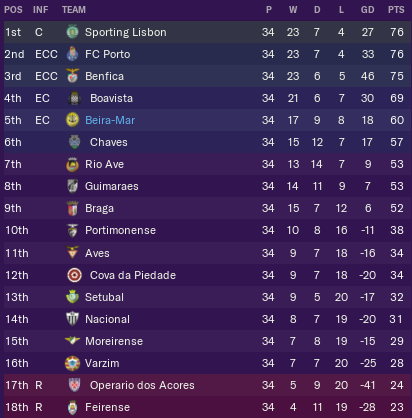 The title moves away from Porto or Benfica for the first time since 2001 (Boavista won in 2000 and Sporting in 2001) as Sporting just about won the league. This gives me hope that there are these top three taking points from each other, and, although the gap is still quite large, it is reducing year on year. We seem to have quickly risen to the top of the 'others' category, as Braga, Guimaraes and Setubal seem to have fallen back from previous years. At the other end of the table, our rivals drop Feirense have dropped down and are replaced by two teams I have a soft spot for - Real and Sacavanense. Real followed our trajectory from the third tier and amazingly Sacavanense have secured their second straight league win so come into the top flight with a squad made up from pretty much entirely loanees and third tier level players. It'll be really hard for them to stay up but I will attempt to follow their exploits.
I have tried to rotate and give chances to as many youngsters as I can - here is the squad screen:

Folha is clearly the standout here but as mentioned earlier - a rating of just 7.2 with that many goals shows that he either scores and rates highly or has an absolutely abysmal game. Loanee Medina, who will be turning his move permanent in the summer also got a load of minutes in a variety of roles. At the bottom, I am stuck with the issue I had mentioned previously - the old guard. Both Tavares and Monteiro have been with me for a long period of time and Laranjeira is now 23 but really don't have huge amounts of quality. With such restrictive transfer rules - it's hard for me to replace them. They will remain in the first team now but will find themselves being sold, like Silveiro and Dias, if their minutes/game doesn't improve.
I also spent some money:



If we can recruit a few good players over the summer, then 4th place is definitely a target next year!