Post by tommo on Apr 1, 2019 16:58:46 GMT
I for one believe that FM19 is one of the best versions of the game series that we all know and love but I am yet to have that long lasting save that often defines a version for us. If I'm honest I've struggled to have saves that last over a handful of seasons so I'm returning back to the forum style of updates, with a save that is completely different to my usual one to, to see if I can change that. There's a number of reasons why I haven't had
that
save but I won't go into them, I've been playing the game for 20 plus years and I think it's probably been the only constant in my life, it's always there and the escape into the virtual game world is something I crave. I'm now in a phase of my life where I'm a parent, I have a new job, new house and things need doing, my playing time is limited so returning to frequent smaller (than blog) updates will be good for me and I hope the interaction adds to this save. I've been lurking around here for a while and it's nice to see some recognisable names from the old Dugout forum where I posted previously, here goes!
I eagerly anticipated the release of the winter update and knew exactly what I was looking for. I can't remember the last time I manage a team in a low division and managed to take them to glory, I usually look at teams in the top two divisions that have the facilities to produce their own youngsters, that have huge potential to grow and usually have some decent players already at the club. This time I wanted to go lower but without having to add custom leagues, I looked at Scandinavia to see what was around in the third and fourth tiers and I also looked at Portugal (inspired by Ben) but neither grabbed me. I narrow it down to two options, the one I disregarded was FC Luch Vladivostok, a team that plays in the Russian second tier, based over 5,000 miles from Moscow on the North Korea border. I like to have a story behind my manager and I was imagining a Japanese manager taking the reigns in Russian, bringing in players from Asia and producing a force to be reckoned with in Europe. Perhaps I'll leave that until FM20.
Hai que Roelo - 'you have to bite the bullet'
My choice of club led me to Spain, Segunda B1 to be precise. B1 is one of four regional leagues in Spain's third tier, B1 holds teams from the north-west of the country and many Galician teams. The region of Galicia would become my new home, tucked away in the far north-west, just north of Portugal, it's unlike any other part of Spain. The weather isn't like the one us Brits tends to think of when we think of Spain, the sun doesn't shine all year round. The Galician language has more in common with Portuguese than Spanish, too. When you think of Galician football you probably thinking about Deportivo and Celta Vigo, these are the two biggest clubs in the area. I remember watching that famous sides play in Europe when I was growing but Deportivo are now in the second tier while their rivals Celta are an exciting team in La Liga.
Although Lugo, based up near a Coruna are also in the second it's widely thought of that Pontevedra are the third biggest team in Galicia and before this save, I had never heard of them. Pontevedra is 30 mins away from Vigo and is the main capital of the Pontevedra region, Vigo sits within that region. Local teams also in Segunda B1 include Rapido and Coruxo. Celta B are there too. In the north near, a Coruna you have Fabril too. Galician clubs will hopefully play a big part in this save as I want to bring the Galician traits as part of the identity of the team. Two hours south is Porto, teams such as Braga, Rio Ave, Moreirense and Porto are close by and I'd love to implement some strategic recruitment from those clubs too.
The title of the third biggest team in Galicia is likely due to their history, in the 1960's the club were in the First Division and even beat Real Madrid 3-0 on the way to a seventh-place finish one year in 65/66 season. That team of the 1960's were lauded by the fans who coined the motto 'Hai que roelo' in reference to the difficulties rival teams had when the played Pontevedra. A literal translation would be "one has to gnaw it" but it does mean "you have to bite the bullet if you want to defeat Pontevedra", hence the thread title. They were relegated in 1970 after five seasons in the top flight and have not seen those heights again. That relegation ultimately led to spending three years seasons in Tier 4 before spending between 1984 and 2004 in Tier 3 before a promotion to Segunda. A 22nd place put them straight back down to Tier 3 where six seasons prior to another 4 in Tier 4. Since promotion in 2015, Pontevedra have stayed in Segunda B finishing 14th in 2017/2018.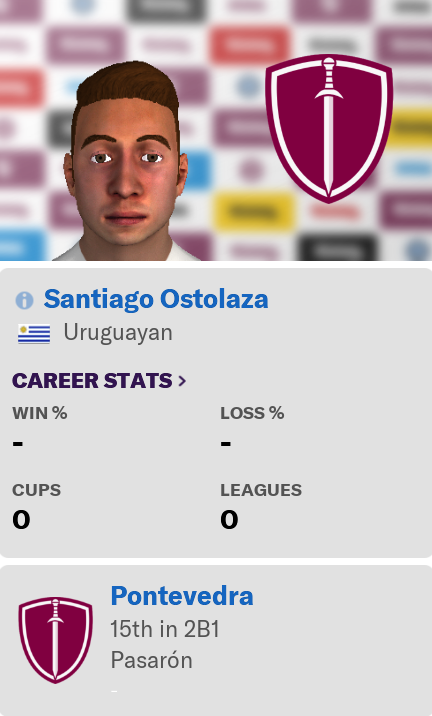 As I mentioned previously, I like a good back story behind the manager I'm in control of, this time
Santiago Ostolaza
is my alias and he's taking his first job in management. He played internationally for Uruguay and earned himself a move to Europe, he played over 100 games for Celta Vigo and his family settled in Galicia. After his spell with Celta, he moved to FC Porto before a final season with Braga. He had relationships in Galicia and in northern Portugal and that will prove key in the recruitment model is wishes to implement (when it's possible). The Uruguayan toughness that he will bring will suit the clubs motto and I'm hoping for some flair going forwards too.
The club are predicted to finish 9th in the first season in Segunda B so here goes...