Post by Ben on May 30, 2019 7:41:56 GMT
Balancing the books
I've been playing through the save, getting my teeth into the team and some player development but a lot of the financial things have completely passed me by. I know, as a small Italian based club, and knowing the history of small Italian based clubs, that we will always struggle financially, but I have not done anything to attempt to rectify that as of yet.
Here is the current overview of our finances:

As you can see - the sponsorship money at the start of the season is a nice little boost and then, over the course of the season, we progressively get further and further into debt before being bailed out again. There are a couple of little bumps - where I got £240k for a sale from an ex-youth player and then £350k when I sold (or should I say, when the chairman sold) striker Maio.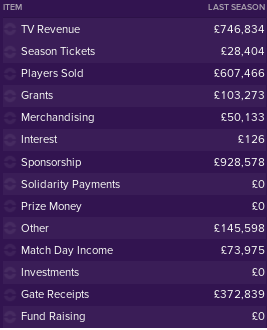 When you factor in all of the money that we brought in last year, yet still recorded quite heavy losses - you can see that we need a sustainable plan. Obviously - the plan is to play at a higher level and earn more money from sponsorship, gate receipts etc but, at the moment, that isn't going to happen. Therefore things like this need to happen: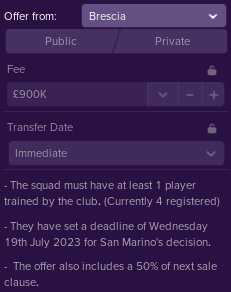 This is for the sale or Roberto Sironi - a player who was amongst my best last season. Unfortunately, we need to maintain a flow of cash and, unwilling to enter re-negotiations and with only 12 months left on his current deal, I had to sell. I had offered him out with only a 50% of next sale included - as I hoped to be able to negotiate with clubs. I had, ideally, wanted the money to be paid in a few installments to save the tax hit at the end of this season and to ensure that we are always staying reasonably level with our money but Brescia responded with this all up front. Sironi is valued at £125k so this is a huge markup and, when countering Venezia's offer to match that of Brescia's, they walked away - meaning that I didn't really dare push them to the point of withdrawing. Brescia are a solid Serie B side and it is likely that Sironi will not actually play and I won't make millions on his next sale clause - however, I will look to cash in on that in a year or so for an amount of his value, if he is not playing.
We are down a solid (performing anyway) first team player but up to about £900k in the bank and I'm hoping that we can start to build a solid financial footing.