Post by Ben on Feb 16, 2020 20:35:02 GMT
April/May 2030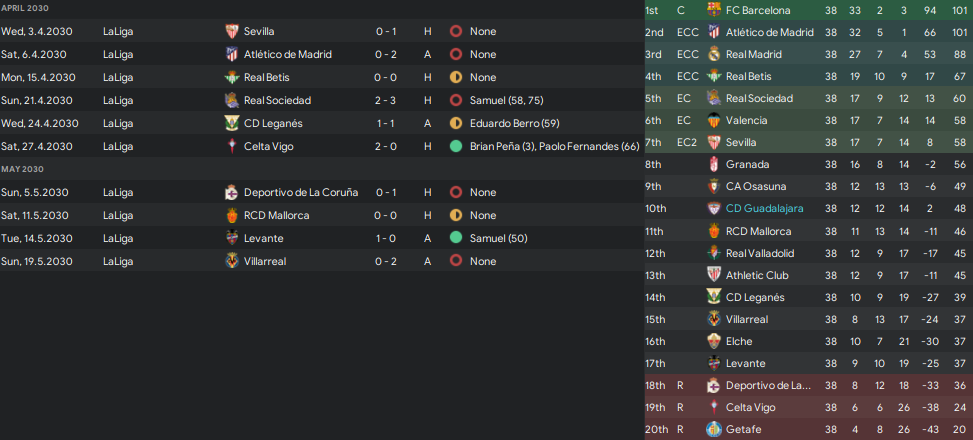 We've stuttered our way to the end of the season - our bad form has coincided with some bad laptop management and has, as such, led to many crashes and many of these games played at least three times! Still - we've held on to a top half position, by the skin of our team and are the lowest ranked team to have a positive goal difference, losing the same amount of games as the teams in sixth and seventh. With three really strong teams in this league and one of the tightest title fights I've ever seen - it's safe to say that I am happy to once again be playing in this league next year - and that comes regardless of the strong start that we had.
---
As a playing squad, it's hard to look past the low average ratings and the poor goals and assists column, but, when looking at the bigger picture - the fourth best defence in the league with only 31 conceded reminds me a lot more of Del Bosque's Spain rather than Pep's Barcelona but we have the foundations to move on and build bigger and better things going forward. At this stage, I'm very much looking at those twelve draws, seven of which were 0-0, as points gained rather than profligacy gong forward.
Here are the playing stats: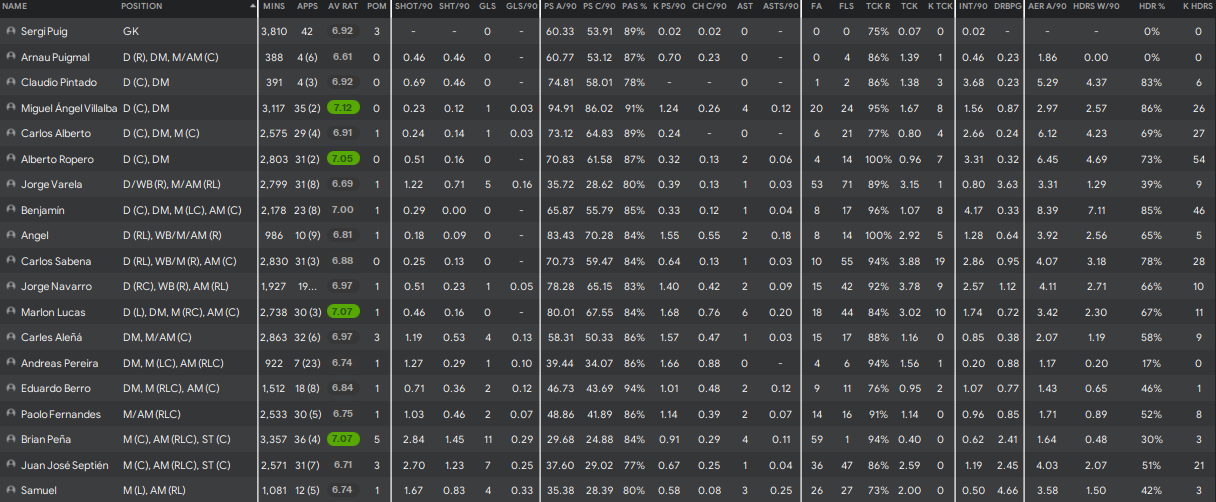 As I said, I'm not overly concerned by the low numbers. We scored 36 times this year, in total, 33 times in the league and three more in a short cup run. No wonder my players aren't getting consistently high ratings as the forwards are scoring once every few games and lucky to create a key chance. That is partially down to opposition and partially down to our own approach - but there is a case for over-reacting here, and that is not what I want to do. When looking at the percentage of our total goals scored - our top contributors (goals and assists) look like this: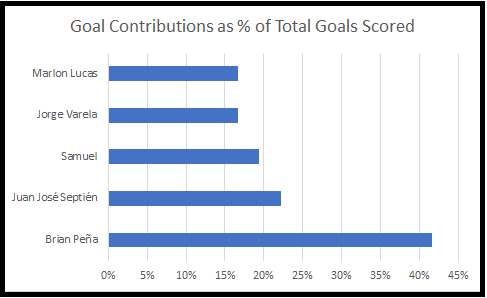 Barcelona scored a crazy 113 league goals this season. If Brian Pena had contributed 42% of that amount, he'd had a total of 38 goals or assists to his name this season and would surely be in the running for a Ballon D'or or something crazy like that. Instead, he just about reached double figures in all competitions but recorded his worst
league outlay
to date. Does this make him a bad player? Of course not. Is it somewhat sentimental that my lower league hero got a chance in the top flight without me buying competition and, as such, is a somewhat naive decision? Yes, probably. So, our front three (and Samuel, who returned from loan in January) have done what they are supposed to - get involved in the goals, and they've been joined by the mightily impressive Marlon Lucas, the new midfielder-cum-full back who joined in the summer.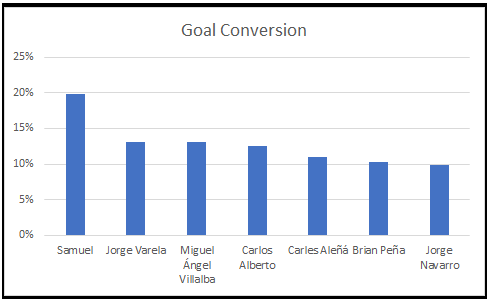 Is this the issue then? Are we not converting our chances? For comparison, league top scorer Moise Kean converted 36% of his shots per/90 and ended with 38 league goals this season. Our highest is Samuel, who, statistically, has really done well in the part of the season where we have struggled the most. It is Brian Pena, who's 10% conversion rate puts him way down the pecking order and, surprisingly, not my end of season wonder like he normally is.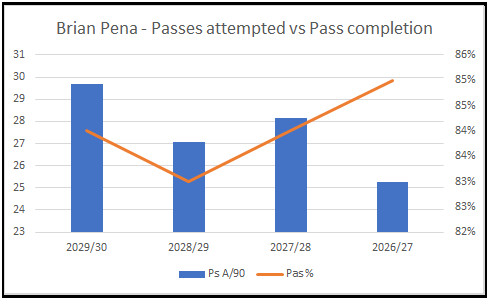 I think this largely explains why - he's been far more involved in the build up play and, if I could gather a heat map for his average positions across the whole season, would probably find him playing much deeper than ever before. It is also a signal that, with no Plan B that is any different to him (Septien can also deputise as a T(A) in that role), if that area of the pitch is covered - he just becomes a playmaker and not an all around goal scoring machine that he has once been.
It is worth noting that he is now rated at 2.5* (I tend not to care but this might be useful information) and the weakest member of my first team squad.
---
I'll have a closer look at the rest of the squad over the summer but for now, my approach is going to be promoting youth as we look to consolidate for a few years and build a wage and transfer budget that will allow me to strengthen adequately.
---