Post by kizmarlo on Jan 17, 2020 10:33:57 GMT
I popped back here at the end of the FM19 cycle, and have just returned to see a plethora of old faces. Shrew's in Portugal, Ben's outclassing everybody out in Spain... so I thought I'd pop my head out of the woodwork and start a new save that I can write about as I've missed doing it.
A 'thing' I've done lately is to create a back-story for my manager; picking someone related to the club and employing a great deal of creative license on their history in order to help engage with the save during the initial 'can I get through this grind?' phase.
So here we are.
In the glory days of 1988-89, a 29 year old Luxembourger by the name of Robby Langers arrived at US Orléans and was a surprise hit, scoring a massive 27 goals in 33 matches that earned him a
Ballon D'or nomination
and a move to Nice, and then Cannes the following season. Whilst at Cannes, he met and mentored a young Zinedine Zidane, often staying with him after training to work on his finishing. It paid off, and the pair remained good friends for the reminder of Zinedine's time in France; and it was often touted that Robby Langers would be destined for a great career in coaching. However, it wasn't to be. Instead, Robby retired back to Luxembourg and embarked on being the Luxembourger Gary Linekar - forging a career in sports coverage.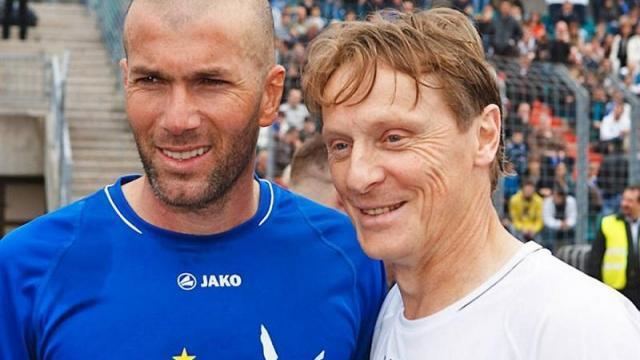 Zidane and Langers reuniting for a charity match.
The demographic for Luxembourger sports coverage is pretty niche, and as such a career in presenting didn't go quite as planned. After using his contacts to grab an ambassadorial role at a French television company, Robby remained a peripheral figure in the French sporting TV production world, dipping his toe into FIFA and UEFA dinner events and guest speaking. All the while, using his free time to study the game he loves - completing basic coaching badges for his own enjoyment more than anything else.
Speed forward to the present day, and his old haunt is managerless. US Orléans 45 are a small side that find themselves in Ligue 2. Their biggest acheivement was finishing runner-up in the Coupe de France in 1980. Orléans is the site of the Siege of Orléans - where Joan of Arc restored confidence in a nation following Agincourt, and is therefore suitably decked-out with one of the more famous cathedrals in the world, and a glorious main street filled with gorgeous architecture. On the Loire, and roughly 70 miles from Paris, it's a large city that deserves a big footballing side - but it's never worked-out that way.
After investment in the club by Langers' television company, the conversation was held, and Robby felt this could be an exciting foray into the career many felt he should always have had post-playing.
And so, Robby Langers was confirmed as the new manager of Orléans, promising to put emphasis on developing unknown talents, and playing football with the flair and attack that had been such a huge part of his own playing career.